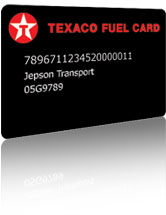 Keep your fleet costs running smoothly
If you want to know how to keep your fleet running costs running smoothly, Texaco has the answer. The Texaco fuel card offers you an easy to use, convenient way of controlling and monitoring all your company's fuel costs and offers your drivers the most convenient way of getting all the fuel you need:
Access to a network of almost 300 Texaco Service Stations across the Republic of Ireland, a further 50 sites in Northern Ireland and over 1,000 in the UK.
VAT approved electronic invoices, allowing your business to reclaim the VAT element of its fuel purchases. click here
Itemised billing for clear and simple allocation of fuel costs, coupled with management information to keep you in control of your fleet.
Security – Cards can be tailored individually to suit each company's purchasing requirements.
Online access to transaction information to help you manage your account. click here
Online card services for ordering new cards. click here
For information about how to apply for a Texaco fuel card please click here
Reduced Costs
Eliminates time wasted checking driver's fuel receipts and analysing driver's fuel consumption. li>
Gives tighter control on fuel expenditure.
Increased Care
The Texaco fuel card can be issued to a named driver, vehicle or both if required.
Fleet drivers benefit from all in store promotions.
Environmentally friendly, the Texaco fuel card gives you access to high quality Texaco fuel grades across the whole network.